OUR CENTENARY APPEAL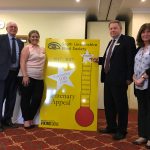 Friday the 15th September, saw us hold our first event to celebrate 100 years of community service, by hosting a full day and evening of celebrations. During the day we had numerous stands, equipment displays, and activities showcasing our history and how we have supported people with sight loss over the past 100 years to stay independent. In the evening a buffet tea was enjoyed by many of our service users, volunteers, staff and those who support the society. Followed by the launch of the Centenary Appeal by David Carter, Society President. The ambition of the appeal is to raise £100,000 for the charity in the next year, with all the money raised going straight into improving our services and increasing the support we give to both our service users and volunteers. Over the next 12 months we will be holding a range of events including our much loved raffles and coffee mornings, so keep an eye out for upcoming events that you can get involved with!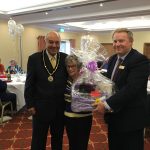 We are now going into March and with all your donations and help, we are doing our best to reach the target. We have had various raffles at our different events, some store collections, and have more booked throughout the coming year, as well as many wonderful donations. Thank you! We are currently holding a midsummer raffle, which will be drawn on the 24th June 2018. The main prizes are;
1st prize – Capsule Coffee Machine
2nd Prize – Kodak Digital photo frame
3rd Prize – Hopper jewellers voucher
4th Prize – Greetham valley golf for 4
5th Prize – Bottle of whisky
With many other prizes also to be won! Tickets are £1  – so if you are interested in taking part or would like to help us to fundraise and encourage others to take part, please don't hesitate to contact the office on 01476 592775.
For more articles and pictures of the Event;
http://www.blind-society.org.uk/photo/
http://www.granthamjournal.co.uk/news/grantham-meeting-celebrates-blind-society-s-centenary-as-appeal-launched-to-raise-100-000-1-8156101  A huge thank you to our Volunteer Marion Ellis for writing and submitting this article!